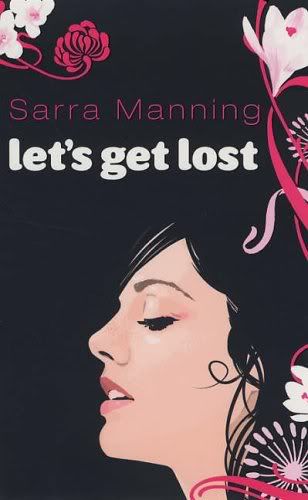 I'm proud to announce that
Let's Get Lost
is available to buy from all good bookshops tomorrow, including Ottakers where it's Book Of The Month.
Although I love all my books equally, I'm especially proud of
Let's Get Lost
as there were times when I thought I'd never finish it. I guess this is the book that most made me feel like a proper writer as I put so much of myself in to it.
It's about a girl called Isabel who doesn't seem very likeable. She's one of the popular girls at school, the meanest of the mean girls. She rules her friends with an iron fist and a divide and rule philosophy. Despises her family. Keeps herself heartless and hard. Then she meets a boy called Smith and begins to unravel. All of us like to present a front to the world and keep the undesirable stuff hidden, but Isabel has it the wrong way round. And Smith finds her gooey soft centre, stirs it around and all of her secrets start spilling out.
I started the book about three months after my mother died and it was too painful and difficult to write. So I took a break to get
Diary Of A Crush
ready for publication, wrote
Pretty Things
and then took another look at
Let's Get Lost
. It's taken me three years to write, gone through about ten different drafts and if I'm brutally honest I cried every day as I wrote the last three chapters. But it's not all doom and gloom and woe is me. Like, all my books you'll find enough to make you smile including caustic one liners, smirky, know-it-all boys and tons of references to The OC.
I'd really love to know what you think of the book and Isabel, in particular. Be sure to review me on Amazon and/or leave a comment here. And
Let's Get Lost
will be out in the US and Canada in October, I think, of this year.
Smith walked fast with a loping gait, almost bouncing on the soles of his sneakers and I liked that he was so free, so unaware, not knowing that I was looking at him. Like when you're on the bus and you stare into someone's front room and you see them watching television or slumped on the sofa and it's like you're taking a tiny piece of them home with you.

He ambled into a couple of charity shops and rifled through battered piles of vinyl records and tattered paperbacks. I loitered by the racks of musty smelling polyester dresses - I was going for this whole melting into the walls vibe but I just looked really shifty if the suspicious attention I was getting from the blue rinse brigade manning the tills was anything to go by.

I hadn't been able to get a good look at him before. It had been dark and there had been quantities of alcohol involved but daylight softened out the slant of his cheekbones and the hard lines of his jaw, so he looked less thuggish. Didn't know anything to lessen the effect of his nose. If you were being kind you'd call it aquiline, if you weren't, you'd call it beaky. And I could see those lips that I'd kissed - how they looked as pillowy as they'd felt. His hair was still ridiculous, he'd obviously never got intimate with a pair of straightening irons. But what I liked about him (and I did appear to like him, even though he had a stupid name and needed to stop kissing girls at parties because he thought they were other girls he'd kissed at other parties) was his serenity. There was something utterly calm about him, no matter how fast his elegant hands leafed through records or pored over books. It was if everything was out of focus except him.

He brushed past me on his way towards the door and I pressed myself against a rail of coats. I waited for the door to shut behind him, then cautiously slunk out in time to see him disappearing into the newsagents next door.

Luckily, I could pretend to read the ads for exotic Swedish massages while I peered through the window and watched Smith buy a packet of cigarettes and some chewing gum. As he was walking down the length of the shop, I realised my cover would be blown so I dived into the nearest doorway, which happened to be a hardware shop and looked with feigned interest at the display of screwdrivers and oooh, power saws. Imagine the damage I could do with one of them.

At first I thought it was the wind brushing against me, but then it happened again, someone was tapping me on the shoulder. Even before I turned round I knew it was him.

I'd forgotten how blue his eyes were. I wanted to compose sonnets in my head about ocean depths and cloudless skies because I was obviously suffering from severe sleep deprivation. He was frowning at me, this little furrowed line popping up between his eyebrows.

I felt like I'd finally been caught shoplifting. My cheeks were burning traffic light red as he fixed me with an intractable look. "Are you following me?"